It's so simple. It makes so much sense.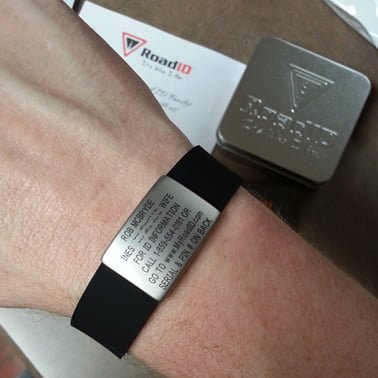 As my friend Eric just posted on Facebook,
I have run with a Road ID for 1000's of miles. You never know what might happen out there. Bears, cars, wolves, cars…
So true, Eric. So true.
For those who don't know what a Road ID is, here ya go.
If you are a runner, cyclist, triathlete or just an active person, Road ID is for you. In the event of an accident, if you can't speak for yourself, your Road ID will. It's not just a piece of gear – it's peace of mind.
I recently caught the running bug and thought this was a good addition to my fitness arsenal. And because I'm a geek. Love just about any opportunity to utilize the world wide web in interesting ways. And one that could help my physical well-being in an emergency seemed like a good idea.
I opted for the Wrist ID Elite Interactive. The Interactive versions allow you to create an online profile that first responders can access by entering a serial and pin number that is engraved on the back.
If you want to get in on the Road ID action, click the banner below for more info!